Sell beats like a
Pro.

Trusted by

Thousands / Millions Processed

Rated #1 system by Mashable and Techcrunch as the most effective system to sell beats online.

Setup Beat Store
Beat Store
The highest converting beat store on the market maximizing sales, over $205 Million paid to producers.
Marketing
Aweber, Mailchimp connect. Facebook, SMS, Make Offer, Deals, Multiple categories, Subscriptions and so much more.
Responsive
Player is fully responsive with all devices such as mobile, desktops, and tablets.
Free Website
Free website included for PRO members with features. Quickpage standard for all. Transfer to your own domain.
Beat Market
Sell your beats on our market viewed by millions, keep 100% of your sales.
CUSTOMIZABLE FONTS
Use any Font you like from Google Web Fonts, Typekit or other Web Fonts. They will blend in perfectly.
What Producers Love
Arm yourself with the best highest converting beat store ever made.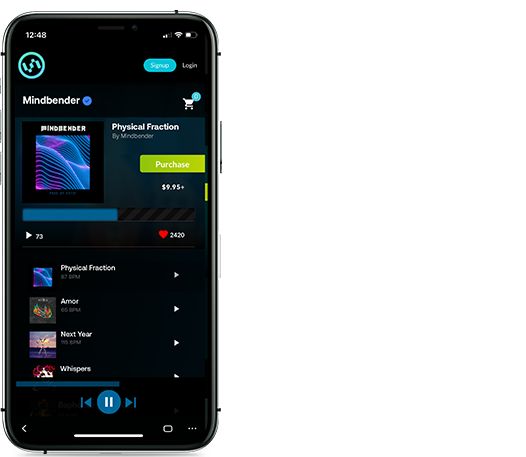 Higher Conversions
Consistently more sales than any other store thanks to our built-in player features.
Branding
Don't get stuck with a player with no customization, our beat store can be customized in graphics and color schemes.
Subscriptions
In-Player subscription feature allows customers to buy subscriptions plans that you create. This feature has really transformed the way people buy beats.
Custom Requests
Customs can request custom jobs right inside the beat player, this has generated a 30% boost in sales!
Multiple Tabs
Selling more than just beats? Albums? Drum Kits? Create multiple tabs on your player and multiply your revenue
Direct Pay
No nonsense approach to getting you paid, direct payment to your Paypal and/or Stripe account. Zero fees.
The Ultimate Desktop Experience
Responsive Layout
Powerful Layout with Responsive functionality that can be adapted to any screen size.
Retina Ready Graphics
Looks beautiful & ultra-sharp on Retina Displays with Retina Icons, Fonts & Images.
Powerful Performance
Optimized code that are completely customizable and deliver unmatched fast performance.
Can I sell beats for free?
We can offer a free trial to test Soundgine platform, if you are interested, just contact us. We don't charge any commission on your sales, and the full sale amount is deposited directly to your provided PayPal/Credit Card account. So, subscribe now, choose your favorite plan and start setting up your online beat store.
Security
Your beats are in good hands, your audio is protected by unauthorized downloads so you can upload your audio with confidence.
Zero Commitments
People love us but for any reason you're not happy you can cancel anytime and do it simply in your control panel.