Edited

2 years ago

by Tone
Started in 2016 full time and never looked back. Sales in 2016 and mid 2017 was bleak but kept pushing my craft and now here I am on my way to 80k in sales.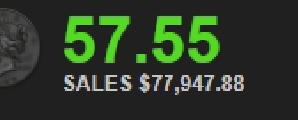 The secret sauce? Have great sounding beats.
Mentally, put the thought of making sales way WAY back in your head, they come later.
I started replicating Dr. Dre Chronic's album and modded it so it wasn't an exact copy and people loved it. Truthfully, I did it to learn but now make 100% original.
Doesn't sound scientific I know but that's what it comes down to.
Hope this inspires some B)